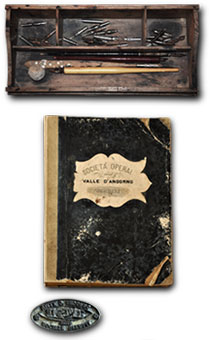 Two professional schools were established in 1862 in Campiglia Cervo and in 1869 in Rosazza. For more than a century they educated specialized technicians whose knowledge, skills, ability to adapt to the most difficult situations, capacity to face loneliness and discomfort due to sudden journeys to foreign lands and ease with which they learnt new languages made them highly appreciated everywhere.
The establishment of schools represented the highest peak of growth of the Valley community and witnessed the farsightedness of the local entrepreneurial class that, keeping up with the times and the market of expanding work, was able to evolve and improve the traditional trade with refresher courses and technical instruction. Though it may sound like a paradox, professional schools also favoured the decline of the community and the irreversible exodus of the population, thus upsetting the original balance based on the migrants' integration of the family income. The increase in the family's wealth made women abandon rural activity that, until then, had provided the local economy with an autonomous support, independent of profits coming from emigration. As there were no longer any reasons to remain at home, wives accompanied their men abroad; the longer their stay in foreign countries, the less frequent their visits to their ancestors' homes became. In the last century the population decreased from 6,500 to 800 inhabitants.
At the same time as the professional schools were established, in Campiglia Cervo, Rosazza and Piedicavallo, three working men's societies for mutual aid were created. They were formed by individuals who had the same rights and who were joined by a deep sense of brotherhood, workers were liberated from shopkeepers in their needs for the basic necessities of life thus avoiding the speculation that recent changes had brought about to the detriment of workers.